The 2021 Subaru Love Promise Customer and Community Commitment Award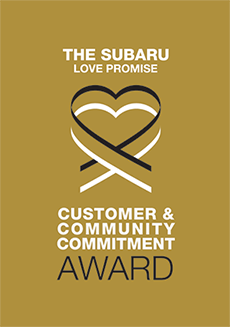 We've been nationally recognized for our dedication to our customers, our community, and the Subaru Love Promise.
We're honored to receive the 2021 Subaru Love Promise Customer and Community Commitment Award. This award nationally recognizes elite Subaru retailers who provide an exceptional customer experience at every interaction with Subaru. These retailers have also demonstrated an outstanding commitment to supporting passions and causes in their local communities in important areas such as the environment, community, health, education, and pets.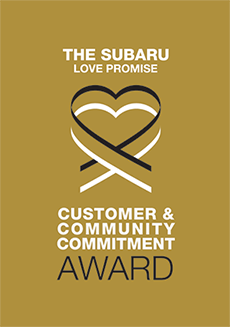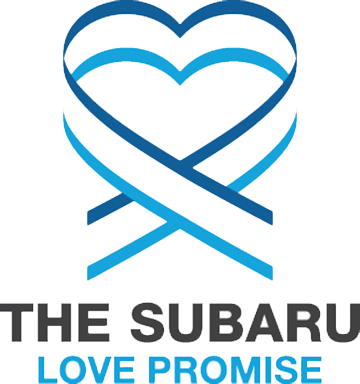 What is the Subaru Love Promise?
Subaru and our retailers believe in making the world a better place and the Subaru Love Promise is our vision of respecting all people. This is our commitment to show love and respect to our customers and to work to make a positive impact in the world.
How is Koeppel Subaru dedicated locally to the Love Promise?
Our Love Promise can be seen in various partnerships with local charities and non-profits. We're grateful for the opportunity, not only to be a part of our community, but to serve it as well.
Mayor's Alliance for NYC's Animals
Quality Services for the Autism Community (QSAC)
Love Promise Stories from Koeppel Subaru
Subaru and Koeppel Subaru believe in making a positive impact on the communities in which we live and work. We uphold that belief through our Love Promise Community Commitment. Every month, we select inspiring stories from customers and partners from around our area who strive to support our collective commitment and feature them here
Blankets of Warmth - Adele Phyllis U
We at Koeppel Subaru received this wonderful thank you note from Ms. Adele Phyllis Unterberg for the Subaru Loves to Care blanket she received through the Leukemia & Lymphoma Society. Ms. Unterberg is current in treatment at NYU Hospital. She is in great spirits and would like to express her gratitude to the Leukemia & Lymphoma Society, her social worker, Dr. Maria Chi, Koeppel Subaru and Subaru of America for the great work everyone does. She wishes to relay that these gestures of kindness mean a lot to patients such as herself. It is the little things that help them with their battles.
---
Supporting MSABC and the American Cancer Society - Molly D
We are so honored to have Koeppel Subaru as a proud supporter of our Making Strides Against Breast Cancer Chapter here in Queens! The American Cancer Society started Making Strides Against Breast Cancer as a way to unite communities in the fight against this deadly disease. Today, Making Strides is the largest network of breast cancer events in the nation - and we do more than just walk. We raise money to help the American Cancer Society fund groundbreaking breast cancer research and provide patient services like free rides to chemo, free places to stay near treatment, and a live 24/7 cancer helpline. But we can't do any of this without the help of people like Koeppel Subaru!
---
Sassy the Wonder Cat - John C
As NYC's only open admission shelter, Animal Care Centers of NYC takes in every single animal that comes through our doors. Some are found roaming the streets and others are brought in by their families who can no longer care for them for one reason or another. Sassy, a 13 year old cat with mild dental disease, unfortunately could not move with her former owner into a new apartment and found herself at our Brooklyn shelter. While she was certainly dealt an unfortunate hand, Sassy took it in stride and acclimated to the shelter life rather quickly given her age. At first, she was very timid in her kennel, but within a few days she was readily accepting pets and attention from our feline behavior staff and volunteers. Older cats typically stick around longer than the rest of the population, but Sassy's sweet demeanor landed her a forever home in quick fashion. It was in this home that we learned of Sassy's true power. Sassy's newly acquired human brother struggles with Autism and OCD. On her first day home, he had been huddled on a sofa by himself all afternoon, just keeping to himself, making sudden body movements and loud staccato screeches. He then had a huge outburst where several TV remotes went flying as he yelled out in pain. Instead of fleeing, Sassy went over to him and then sat by his feet. She stayed in that position despite more sudden movements, feet stomping, and loud screams. Finally, the brother noticed her for the first time in hours! With guidance, he pet her gently and quickly learned that she enjoyed having her cheeks and chin scratched. Just like that, Sassy's new brother was back from that faraway place where his family thought he couldn't be reached. The family was so amazed at how Sassy just seemed to know what to do – just be there for him. It's thanks to our partnerships with companies like Koeppel Subaru that we're able to spread the word about our work and our available animals, like Sassy. Without their support and generosity, we would not be able to carry out our mission of ending animal homelessness in NYC. We could not be more grateful to be a part of the Subaru Love Promise campaign with them and look forward to working together again in the future.
---
Supporting Children and Adults with Autism - Joseph A
Koeppel Subaru has been integral to the growth and enhancement of Quality Services for the Autism Community's (QSAC) programs for children and adults with autism. When the pandemic started to affect our programs earlier this year, Koeppel Subaru and their team were ready and willing to assist in any way that they could. While we have been a charity partner of Koeppel for many years, this year's Subaru Share the Love Event had a particularly significant impact as we worked to respond to unprecedented challenges due to COVID-19.Koeppel Subaru's supported helped us continue to operate nearly all of our programs and services for the autism community and their families during this period. Funding from the Share the Love event also allowed us to adapt to serve our community in other ways to meet the unique and changing needs of the people we serve. Facing food insecurity, we worked quickly to ensure that our families had access to reliable sources of food through care packages that were delivered by our staff. We developed and continue to provide virtual workshops for people with autism as well as support groups and trainings for parents and siblings. These initiatives have been directly impacted by the generosity of the Koeppel Subaru family. The Subaru Share the Love Event has also helped us purchase critical personal protective equipment (PPE) for our school-age and adult programs. Without funding from other government entities, the support of Koeppel Subaru has allowed us to make significant investments in these essential supplies. We are purchasing thousands of pieces of PPE on a regular basis to protect the people we serve and our staff. In our programs, Koeppel's support enabled us to make site modifications to ensure social distancing as well as the installation of hand washing machines, sanitizer stations, and countless other changes for which there is little to no government support. As we face this unforeseen challenge, we remain steadfast in our commitment to the vision of our founders and inspired by the many challenges they overcame in the face of adversity. We are grateful for the ongoing friendship that we have with our partners at Koeppel Subaru and Subaru of America. The entire Koeppel Subaru family has helped us ensure we have the resources we need to best support the families we serve during this challenging time.
---
A Generous Donation from Koeppel Subaru - AnneMarie F
As a 2nd grade teacher at PS 148 Q, I cannot be more grateful to Koeppel Subaru for its generous donation of desk shields that not only protect me, but more importantly protect my 2nd grade students and their families. In this time of uncertainty, it is nice to know that Koeppel Subaru is looking out for its local community. Thank you!
---
A Generous Donation from Koeppel Subaru - AnneMarie F
As second grade teacher at PS 148 Q, I cannot be more grateful to Koeppel Subaru for its generous donation of desk shields that not only protect me, but more importantly, protect my second grade students and their families. In this time of uncertainty, it is nice to know that Koeppel Subaru is looking out for its local community. Thank you!
---
Subaru Cares About Homeless Animals - Deborah D
Everyone knows that Subaru has a long standing commitment to helping homeless animals. Recently, our local Subaru dealership, Koeppel Subaru of Long Island City, had a donation drive to benefit the animals at Bobbi and the Strays and the outpouring was overwhelming. We could never be able to do what we do for the homeless animals without the help of our community. The work that we do, helping homeless animals and educating children about how important it is to take care of them, could not be accomplished without support from businesses like Koeppel Subaru. When food and supplies are donated to us, that frees up monies donated allowing us to give even more to our animals. Bobbi and the Strays has over 200 dogs and cats between our two sites and that certainly is a lot of mouths to feed. This donation has helped us tremendously. Thank you so much to everyone at Keoppel Subaru.
---
Subaru Loves Learning Event - 111Q - Nelson P
At Koeppel Subaru we take a high interest in every Subaru Program; however, the "Subaru Loves Learning Event" is very important to us since our community of students and teachers deserve every little help we can provide; many of us at Koeppel Subaru like Nelson Peraza, Sales Department, have children in schools or relatives that work in schools here in New York City like, Gary Zias' wife and Joe Sierra's wife. Both are Sales Managers at Koeppel Subaru. This year we selected the Community School 111Q Jacob Blackwell to receive 9 boxes of books and school supplies as well as a check donation that will be used in the improvement of our men and women of the future.
---
Subaru Loves to Care - Mount Sinai Hospital Visit - Monica J
On Thursday, August 8th the New York City Chapter and the Koeppel Subaru team had the pleasure of delivering 80 blankets to Mount Sinai Hospital as part of the Subaru Loves To Care program. These comforting gifts were accompanied by personalized messages of hope written by the customers and staff of Star Subaru team.During the visit, we had the opportunity to meet one of the oncology physicians along with a few nurses. They expressed how lovely the blankets were and how excited the patients would be when they hand them out. There was one incredibly special moment where we had the honor of meeting a patient who has directly benefitted from the Susan Lang Patient Travel Assistance Program. He was so excited to meet LLS representatives and could not express his appreciation enough of the organization. He truly believes in the work of LLS and stays involved as much as he possibly can. This individual went out of his way to make sure he would be able to meet us and shared all about his positive experiences with not only Mount Sinai Hospital but with LLS. After we met him he was on his way to be part of a podcast where he was going to share his own personal experiences with cancer in hopes that it will help inspire those going through something similar.This was such an incredible experience and we are so proud to partner with Subaru to spread hope, love and warmth to those fighting cancer, across the country and right here in the New York City community.
---
Koeppel Subaru Spreads Love and Warmth to Patients - Michelle S
On Monday, July 16th, Benjamin Ehrlich from Koeppel Subaru of Long Island City joined The Leukemia & Lymphoma Society (LLS) to deliver blankets, craft kits, and messages of hope to patients at NewYork-Presbyterian/Weill Cornell Oncology Treatment Center. We had the opportunity to deliver a blanket and craft kit to Noelle, a patient receiving treatment at the facility, and her friend, Lauren. Being able to deliver a small gesture of comfort to a patient that day and seeing her smile truly captured the reason why this program exists. LLS is proud to have the opportunity to join our partner, Subaru, on this project, in showing support to the patients and their families who are battling cancer right here in New York.
---