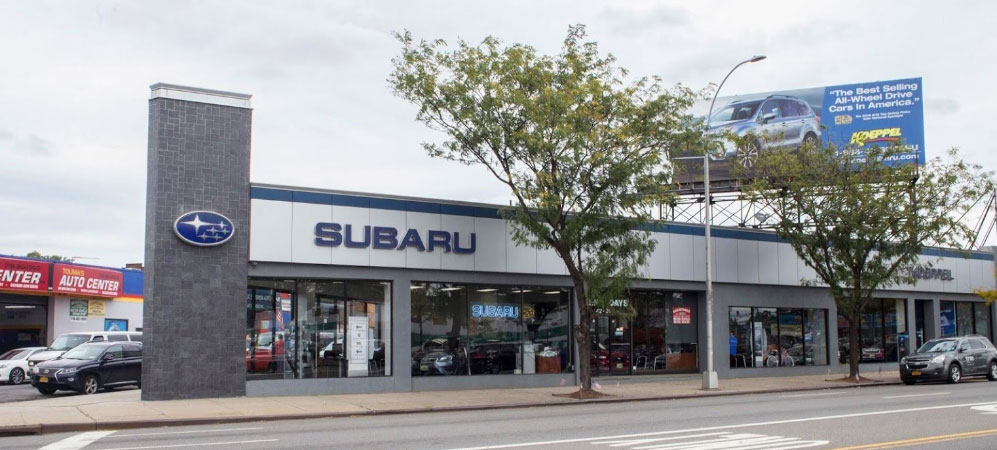 Welcome to Koeppel Subaru!

Here at Koeppel Subaru, our friendly sales and service professionals make every possible effort to provide our valued New York Subaru customers, with a superior shopping experience, unbeatable service, and the most competitive pricing available for your new or used Subaru purchase.
Huge Selection & Value
Choose from our extensive 2021 Subaru Inventory for all the hottest and most innovative vehicles and features that Subaru makes. Drive with confidence knowing that we carry all the parts your new Subaru will need through the years and that as a Subaru Stellar Care Award winning dealership- we have a proven track record of providing high-quality service to all of our customers.
Top Notch Customer Service
Our trained and experienced Product Specialists are well equipped to handle all of your needs from the moment you walk on the lot, through your purchase, and following through with outstanding customer service to help you maintain your new car or SUV and stay on the road in comfort. Our primary focus is to find the vehicle that is best suited to your needs and your budget. When you buy at Koeppel Subaru, you become part of the Koeppel family- and it's our mission to make sure you have what you need to drive safely and reliably.
Shop Online or Visit Koeppel Subaru Today
If you don't see what you're looking for, use our "Search Inventory" feature at the top right corner of every page of our Subaru Dealer New York website. Type in the make and model of the vehicle you're looking for, and if it's in stock, you'll see a comprehensive fact sheet about the product you're interested in. Or if you prefer, discuss your buying options with our friendly sales staff.
Call (888) 481-8464 or shop our New Subaru Inventory online today and speak with one of our knowledgeable and friendly representatives.
Hours
Monday

9:00am - 8:00pm

Tuesday

9:00am - 8:00pm

Wednesday

9:00am - 8:00pm

Thursday

9:00am - 8:00pm

Friday

9:00am - 7:00pm

Saturday

9:00am - 7:00pm

Sunday

11:00am - 5:00pm