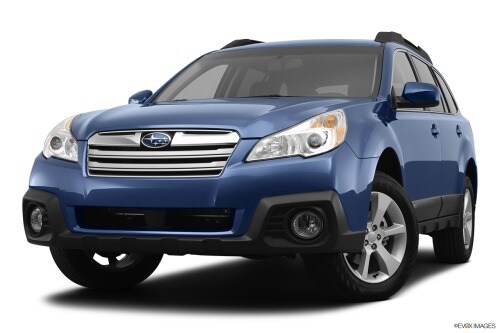 The 2013 Subaru Outback features a restyled front end, a more efficient four-cylinder engine, an updated continuously variable transmission (CVT) and revised suspension tuning. New features include keyless ignition/entry and newly available adaptive cruise control with a collision avoidance system.
Click Here for Koeppel Subaru's New Outback Inventory
General Information

The 2013 Subaru Outback wagon sports a new four-cylinder drivetrain, a revised suspension and tweaked styling. Related to the Legacy sedan, the five-seat Outback competes with midsize wagons like the Toyota Venza and Honda Crosstour. A new, optional EyeSight system includes a number of advanced safety features. The four-cylinder Outback will come in 2.5i, 2.5i Premium and 2.5i Limited models. A six-cylinder model comes in 3.6R and 3.6R Premium trims.

Safety

The 2013 Subaru Outback comes standard with four-wheel antilock disc brakes, stability and traction control, front side airbags and side curtain airbags that cover both rows. Subaru's new EyeSight system bundles safety technologies including adaptive cruise control, pre-collision braking, lane departure warning and sway warning. The EyeSight system uses two cameras mounted inside the upper edge of the windshield, which Subaru says reduces the potential for damage compared to conventional radar systems mounted in the front bumper. EyeSight can also detect pedestrians and is capable of braking the Outback if the driver takes no evasive action.

Drive

The Outback's last growth spurt opened up plenty of interior room, but lost the previous generation's quick handling in the process. Last year's Outback was saddled with significant body roll and vague steering feel. For 2013, Subaru says it stiffened the car's structure and retuned the suspension to reduce body roll and improve handling. We've yet to fully test the new Outback to see if these changes did the trick.
Styling
The 2013 Subaru Outback is a five-passenger wagon offered in six trim levels: 2.5i, 2.5i Premium, 2.5i Limited, 3.6R, 3.6R Premium and 3.6R Limited. The numbers refer to engine displacement.

Final Opinion
A new, more efficient engine, high-tech safety features and commendable off-road performance make the 2013 Subaru Outback a top pick among utility crossovers, especially for those who frequently enjoy the great outdoors.
Click Here for Koeppel Subaru's New Outback Inventory