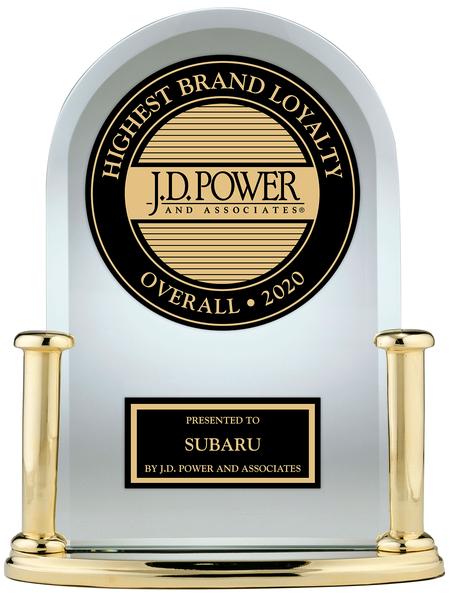 Koeppel Subaru of Long Island City is proud to announce that in 2020, Subaru has been recognized by J.D. Power & Associates for the Highest Brand Loyalty among mainstream automotive brands for the second year in a row. Over 60% of Subaru drivers opt for a new Subaru to replace their old vehicle, besting all other mass-market auto manufacturers in the J.D. Power U.S. Automotive Brand Loyalty Study.
Queens Subaru drivers know that they can count on their vehicles to give them many years of reliable performance and that trust is found to be reflected nationwide by this study. Quality, longevity, value, trust and performance are hallmarks of the Subaru brand that keep customers returning to Koeppel Subaru time after time when they are ready for a new vehicle. They know that they can count on Subaru vehicles to provide exceptional value for their car shopping dollar and for Koeppel to give them the best deal around on their favorite All Wheel Drive vehicles.
"Subaru owners are drawn to the reliability and capability of our vehicles, as well as the trustworthiness of our brand, and this award from J.D. Power is a testament to their loyalty," said Thomas J. Doll, President and CEO, Subaru of America, Inc. "We remain grateful for the dedication of our owners and we are proud to provide long-lasting value for our customers, as both an automaker and a brand that is more than a car company."
Based on nationwide automotive transaction data from June 2019 through May 2020, the Power Information Network compiled data revealing when an owner purchased or leased a new car of the same brand that they were driving at the time of the transaction. Subaru won the top spot in 2019 and is again the winner of the 2020 study, establishing what Koeppel Subaru customers already know - that safety, trust, and value matter and their loyalty proves it.
Visit Koeppel Subaru at 42-01 Northern Boulevard in Long Island City to test drive a new Subaru Outback, Forester, Impreza or Crosstrek. If you're a current Subaru owner, check out the loyalty incentives available to you to get a great Subaru lease deal in Queens! If you're driving another brand automobile, stop in to see us and let us show all that the new Subaru models have to offer. We're confident that when you see the outstanding quality and value that Subaru has to offer, you'll become one of the many loyal customers that swear by their Subaru! We look forward to meeting you and welcoming you into the Koeppel Subaru family!
For more information about the J.D. Power 2020 U.S. Automotive Brand Loyalty Study, visit jdpower.com.