NYC 2015 BRZ Limited | New York Subaru Dealer
There are those who need to escort their families to school, others who need to feel gravel beneath their tires at least one weekend a month, and then there are those who like to go fast. For those people there are sports cars like the new NY 2015 Subaru BRZ Limited. Most Subaru's have at least a small hint of zoominess but the BRZ takes it to the nest level with swift mechanics and a light-weight build.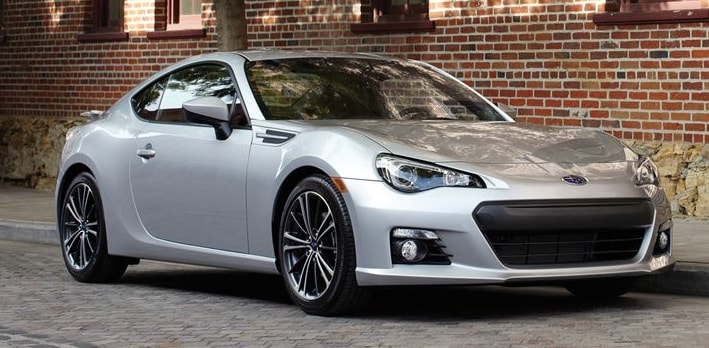 The BRZ is all flash with an impeccably smooth exterior, brilliant alloy five-spoke wheels, flared fender lines, well-sculpted flanks, and arched roof. Inside, the BRZ sports a contemporary, industrial style with nut-and-bolt design control knobs, fine leather and suede upholstery, and metallic accents. Any car can look nice but the true test of character comes with its functionality. The BRZ Limited trim includes the type of standard features you'd expect in pricier models. Features include a limited-slip differential, automatic headlights, keyless entry and ignition, full power accessories, 6.1-inch touchscreen, Bluetooth, navigation system, voice controls, and heated seats and mirrors.
Now for the best part: the BRZ comes powered by a strong 2.0L horizontally opposed four-cylinder engine that produces 200 hp and 151 pound-feet of torque. Paired with the engine is a responsive six-speed manual or transmission with rear wheel drive. While these mechanics do allow you to effortlessly blaze around corners, they also work to get you an impressive 22 mpg city/30 mpg highway. (All mileage claims in this article are EPA estimates.) Precious cargo-hauling sedans and speedy sports cars alike need the best safety features. That's why the BRZ comes with features like side impact beams, traction and multimode stability control, electronic brakeforce distribution, brake assist, and brake override, to give you ultimate peace of mind.
When you're ready to ride, visit our New York Subaru Dealer to test drive the new 2015 Subaru BRZ Limited.