NY Subaru WRX | Long Island Subaru Dealership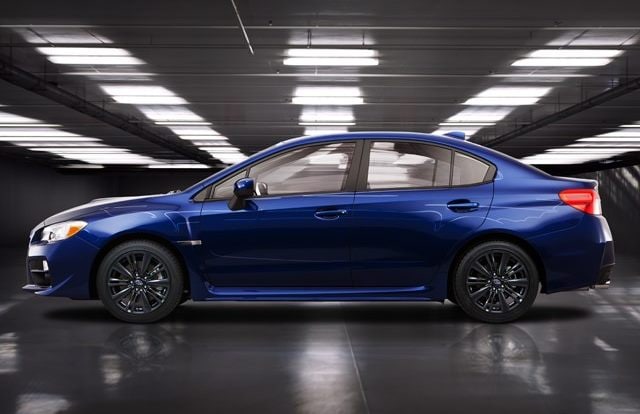 Step inside the new 2015 NY Subaru WRX and find yourself inside the newest in a long line of Subaru excellence. The new WRX touts new body styling with an eye towards a more sporty look thanks to its flared fenders and sharp angles, while still maintaining its rough and tumble image as a powerful rally car. Under the hood is Subaru's signature boxer engine layout, and with a tuned suspension and a precise new electric-power steering system this car is built to perform both on and off road. Feel yourself in complete control when tackling the corners and have the power underneath your right foot waiting to be released.
Unlike most of its competitors, the WRX has an all-wheel-drive system that has no problems putting the power on the ground, giving it exceptional stability and control in all driving conditions. The engine is a turbocharged and intercooled DOHC 16-valve flat-4 that produces 268 horsepower with 258 lb-ft of torque. The engine has a peak boost at 15.9 pounds with a compression ratio of 10.6:1. When it comes to the transmission you have a decision to make: either the old standby of a 6-speed manual or a CVT automatic, new to the WRX.
The body of the new 2015 WRX is 41 percent stiffer than before, and along with anti-roll bars, firmer bushings, and aluminum lower control arms of the strut front suspension this car is ready for anything you can throw at it. The front and rear suspension are also markedly stiffer, providing for more balance and control through the turns. Improved brake feel also adds to the overall driving experience with the help of 12.4-inch vented rotors with two-piston calipers in the front and a larger master cylinder. Get from 0-60 mph in just over 5 seconds and keep going all the way up to 145 mph. This truly is a driver's car ready for anything.
Are you are ready to take the 2015 WRX for a test drive? Then stop by our Long Island Subaru Dealership today!