Manhattan Subaru Legacy | Style & Power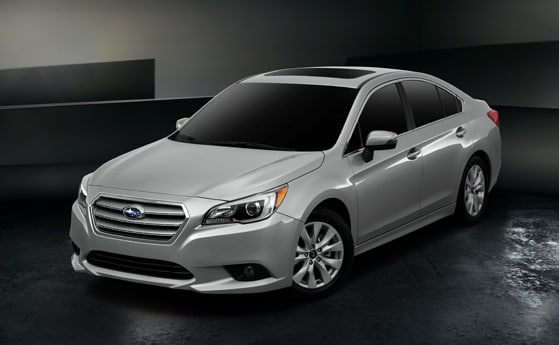 Are you in need of a stylish yet roomy car that gets you outstanding mileage no matter the New York weather? Then look no further, the new 2015 Subaru Legacy is the car for you.
The Legacy comes in seven trims, two of which are sitting on our lot, waiting to be driven away. These are the 2.5i Premium and 3.6R Limited. This new Subaru has been redesigned with a smoother body and sleeker interior that rivals that of luxury cars.
The 2.5i comes standard with 17 inch alloy wheels, heated exterior mirrors, a windshield wiper de-icer, dual zone automatic climate control, rearview camera, traction and stability, ABS, control voice command, 7 inch touchscreen display, and a whopping 6 speaker sound system. The 3.6R Limited comes standard with all these features with the inclusion of a powerful six-cylinder engine and xenon headlights. Either trim has what it takes to get you through snow, sleet, hail, and rain.
The Legacy offers two engines: a 2.5L four-cylinder and a 3.6L six-cylinder. The 2.5L produces 175 hp and 174 pounds of torque. The six-cylinder generates 256 hp and 247 pounds of torque. Both engines are paired with a CVT transmission with steering-wheel mounted paddle shifters. The 2.5L still gets an amazing 26 mpg city/ 36 mpg high while the 3.6L gets 20 mpg city/28 mpg highway helping to keep you off the pump and on the Brooklyn roads.
If you're ready to roll into the new year with style and power, come into our Long Island dealership and test drive the 2015 Subaru Legacy today.